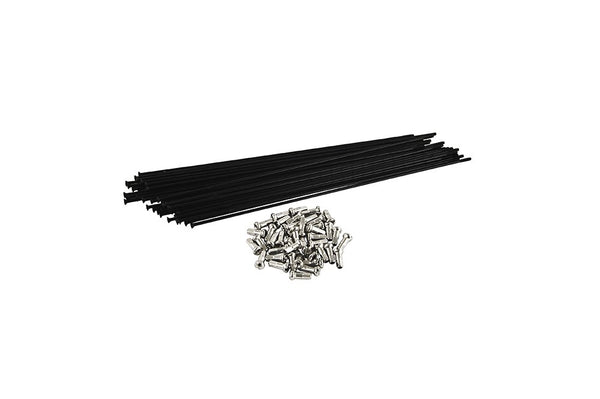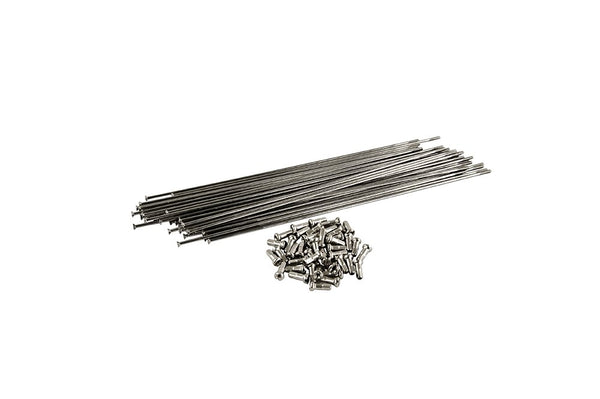 Designed to work with our Straight Pull Hubs as a way of reducing the possibility of damaging spokes and creating a stronger/stiffer wheel build.
SPECS
- Designed for Tree Straight Pull Front and Rear Hubs only
- Comes in 42pcs bag so there's 6 extra spokes just in case
- Available in straight-gauge or double-butted
- Made of High quality stainless steel
- Comes with chrome brass nipples
SIZES
- 197mm Straight Gauge or Double Butted
- 200mm Straight Gauge or Double Butted
- 202mm Straight Gauge or Double Butted
- Use our Spoke Length Chart to determine which size is right for you! Our Straight Pull Front and Rear Hubs utilize the same spoke length.
COLORS
- Black or Silver
INFO
Straight pull spokes are stronger than J bend spokes because they work purely on the tensile strength of the spoke. Tensile strength is the resistance to the spoke being pulled at both ends. By using a straight pull spokes design I created the strongest and stiffest wheels in BMX. It's really easy to lace the wheel, just push the spoke into the hub and the spoke goes right to the corresponding hole in the rim. Built up the spokes create a noticeably stiffer wheel.
The spokes are laced 5 cross. We chose 5 cross because it made it possible to assemble the wheel where there was room to feed the spokes into the hub. The spokes lace perpendicular to the center of the hub which is the strongest lacing pattern for wheels.
*Before you buy be sure your ordering the right size spoke! Please refer to our Spoke Length Chart to calculate which length spokes you'll need!!!*