Bio
Age: 26
From: Davie Florida
Currently Resides: Boulder Colorado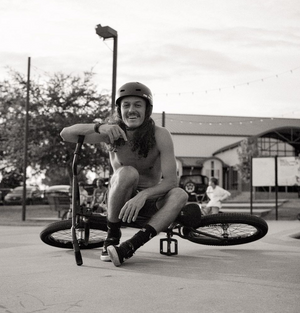 about
Robert lives the most intentionally out of anyone I know. He knows what he likes and that's Bmx, traveling and cotton candy flavored things, especially ice cream. He co owns a small clothing company with his best friends called FTE which stands for "For The Experience" where he and his friends can express themselves with having a place for the photos they take, making videos to remember trips they've been on or just to have a place to let the stupid quotes accumulated on trips live on through the T-shirts tags.
Living cheap for Rob means he can spend more time out of his year traveling the world. Most of the places I've traveled, certainly abroad have been with Rob. The trip that stands out the most was when we booked one way tickets from Los Angeles to Copenhagen Denmark after road tripping the USA for a month. We lived in a 3 person tent with our bikes in the city using water bottles as pillows and sleeping in stinky sleeping bags so we could ride all the amazing concrete Scandinavia has. To show how dedicated he is on travel after 2 months I was burnt out on travel and flew home Rob flew to the middle east and road tripped for another month.
Something I have a lot of respect for Rob is he's never had a drink, a smoke or even said the F-word in his 26 years of living. He has a such a humble personality that he'll be more embarassed than proud when you find out he has over 100k followers on instagram or when you find out some of the stuff he's done on his bike. I've been trying to learn Robs lizard brain for nearly a decade and I'm super psyched he's joined us on the Tree Tribe to give me a chance to learn more.
- Mason Burke