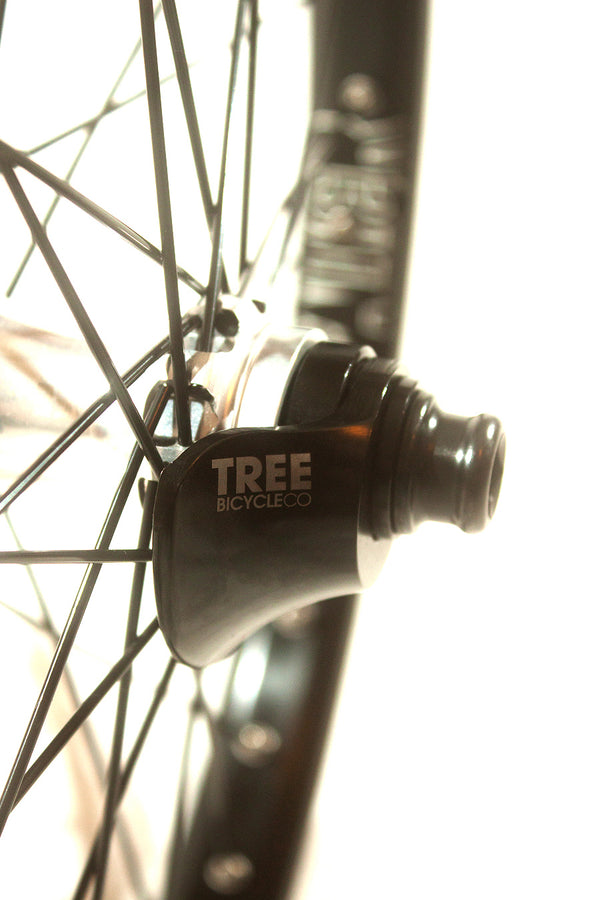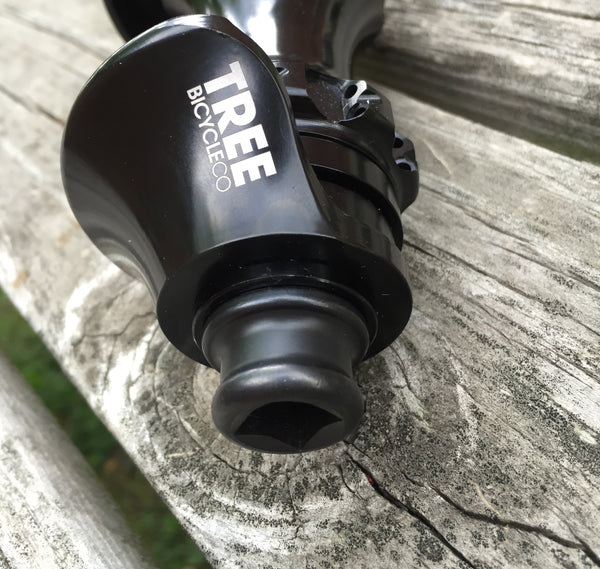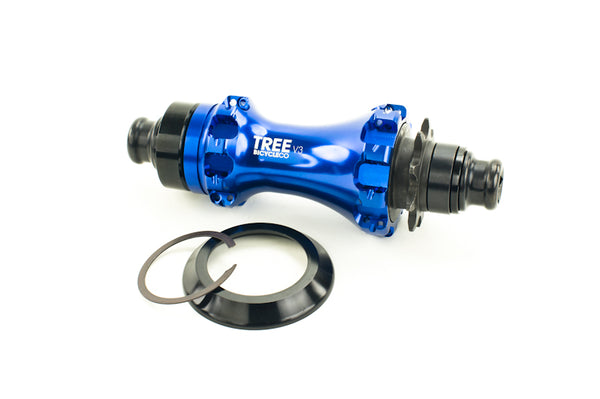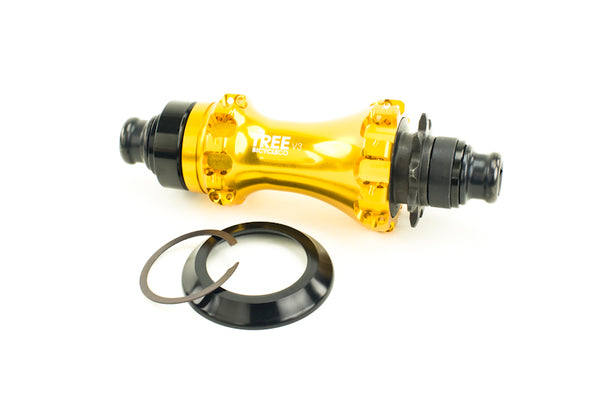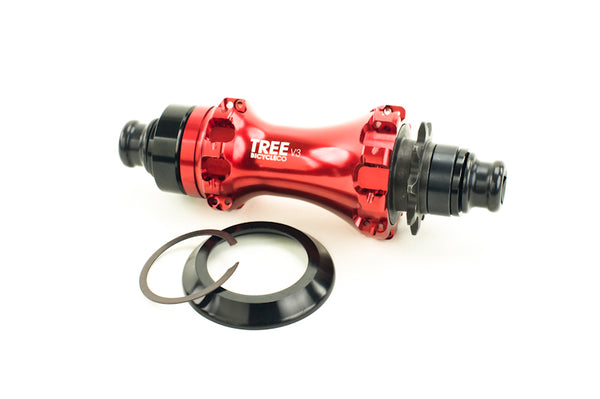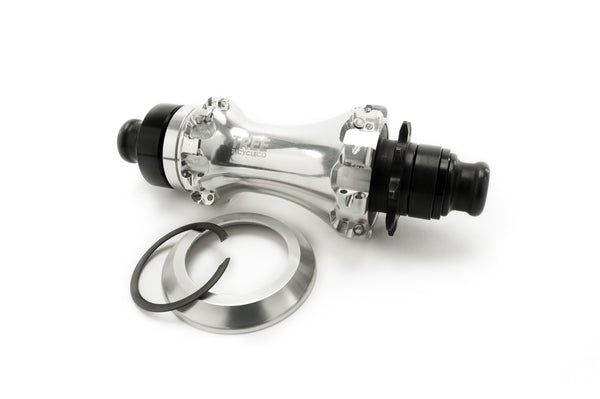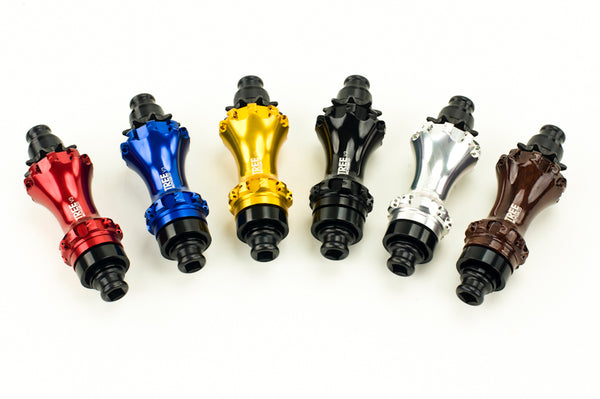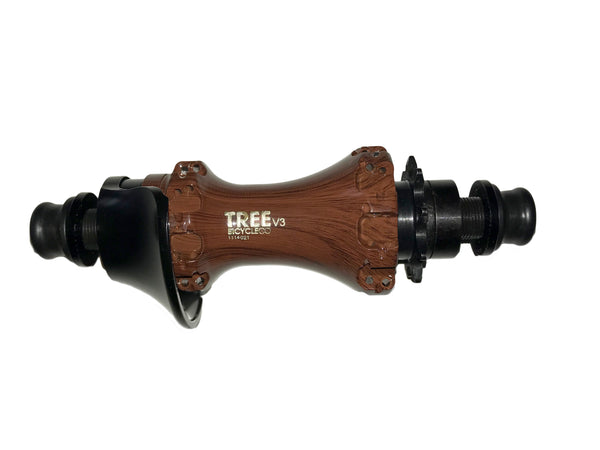 Designed to fix the common problems most traditional hubs have today. Made to spin freely and fast while providing an incredibly strong and stiff wheel build.
Add a Modular Hub Guard for only $10. Just choose the WITH hub guard option.
SPECS
- 7075 T6 aluminum shell
- 17mm 4140 Heat Treated steel center axle
- Specifically for use with Twigs n' Berries Straight Pull Spokes
- Ceramic driver bearings
- 5 cross lace pattern
- Low friction bearing design
- Comes with a 7075 T6 aluminum Tree hub guard
SIZES
- 36 hole
- Available in 14mm or 3/8" axle bolts
- 9t Chromoly Driver
- RHD or LHD
- 16t drivers can be swapped to by special request
COLORS
- Black, Blue, Gold, Red, Silver, or Woodgrain
WEIGHT
- 14mm: 14oz/392g
- 3/8": 13.3oz/372g
INFO
The hub has special bearing system that allows the hub to roll as freely as possible without resistance so it's the best spinning hub out there.
Straight pull spokes are stronger than J bend spokes because they work purely on the tensile strength of the spoke. Tensile strength is the resistance to the spoke being pulled at both ends. By using a straight pull spokes design I created the strongest and stiffest wheels in BMX. It's really easy to lace the wheel, just push the spoke into the hub and the spoke goes right to the corresponding hole in the rim. Built up the spokes create a noticeably stiffer wheel.
The spokes are laced 5 cross. I chose 5 cross because it made it possible to assemble the wheel where there was room to feed the spokes into the hub. The spokes lace perpendicular to the center of the hub which is the strongest lacing pattern for wheels.
Hub comes with a replaceable 7075 T6 aluminum Tree hub guard that protects the spokes from damage during grinding.
The driver uses a 3 pawl system that engages 3 pawls simultaneously. And it uses a ceramic plain bearing instead of little cartridge bearings that can tend to break.
The axle has a unique thread design that prevents cross threading.
The 14mm heat-treated hollow chromoly axle bolts are made to be used directly with the ratchet or extension. So there are fewer tools to keep in your bag
*Before you buy be sure to order some of our Twigs n' Berries Straight Pull Spokes as traditional J-Bend spokes are non compatible with our Straight Pull Hubs. Please refer to our Spoke Length Chart to calculate which length spokes you'll need!!!