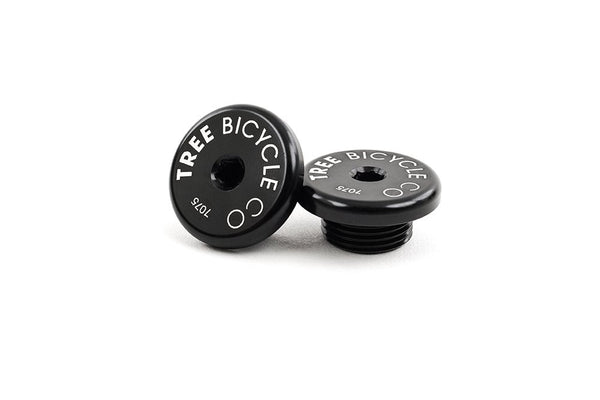 Designed to thread directly into your bars and last long. Simple, clean, and threaded.
SPECS
- 7075 T6 Aluminum
- Threads directly into handlebar to prevent falling out
- 20 x 1.5mm thread into handlebar
- 6mm Allen wrench hole
- Head diameter is the same diameter as the grip
- Designed specifically for use with Tree handlebars, but other bars can be tapped out to work as well.
COLORS

- Black
WEIGHT
- 1.1oz/ 31g
INFO
The heads of the barends are machined the same as the Tree headset cap so both bolts match. The outside diameter of the barends match the grips diameter, this reduces the amount of dirt that can get under the grips if you cut off the bump on the end of the grip. The barend is simply a bolt that can be tightened down with a 6mm Allen key, very tight, so they will not fall out while riding. They are made of 7075 T6 aluminum so they are longer lasting that 6061 T6 barends
USE INSTRUCTIONS
To use these barends your handlebars must have 20 x 1.5mm threads inside of the end of the bar. Since only Tree bars come pre-threaded, all other bars will need to be tapped out. All mailorders and some bike shops will have the tap to thread your bars with. If your local bikeshop does not have the tap necessary please ask them to contact us to so they can get one.
The most common way of getting the bars tapped out when ordering through mailorder is when purchasing a new set. But for a local bikeshop it is much easier to show up and have your current bars tapped as well as have a brand new pair tapped.
Please be cautious on multi-butted bars if they are cut down more than ½" width from original width because the tubing is thinner in the grip section of the handlebar. In this area the ID is too big for the tap to cut threads into it and the barend will strip out and be useless. Because of this some bars are not compatible with Tree Barends.