Lite 22mm Spline Drive Sprocket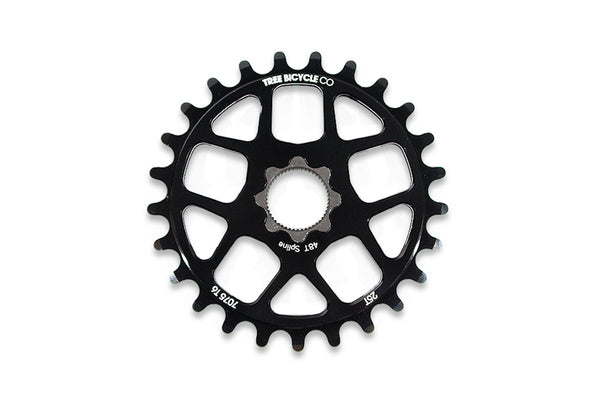 Designed as an extra light weight sprocket that can take one hell of a beating.
SPECS
- 5/16" thick 7075 T6 CNC machined aluminum
- Heat Treated drive splined insert for 22mm 48 spline cranks
- 1/8" wide teeth
- Fits perfectly with these 22mm 48 spline 3pc cranks: Profile Column, Macniel Connect, Stolen Team 22, and Animal Akimbo cranks.
- Also fits these 22mm 48 spline 2pc cranks, but the splines on these cranks are all cut a little deeper on the spindle so the fit will have a little play if your cranks are loose. :Bone Deth Penetrator, Fiend, Kink Pillar, United Nash, Solid 3pcs and Cult 3pcs Deathrow Cranks
- Available in Bolt Drive
SIZES
- 22mm spline drive
- 25T, 28T, and 30T
- Also available in 19mm Spline Drive
COLORS
- Black
WEIGHT
- 25t: 2.6oz/73g
- 28t: 3.0oz/84g
- 30t: 3.4oz/95g
INFO
It is made of 5/16" thick 7075 t6 aluminum. The design went through 6 prototypes of finite element computer analysis, real world testing, and laboratory testing. The spokes of this sprocket are tapered and I-beam shaped putting material where it's needed and taking material away where it is not needed. All of this work created the highest strength to weight ratio sprocket out there. Every single detail has been thoroughly thought out. Many all nighters have put into designing this thing!
This sprocket uses Spline Drive a technology I developed when trying to improve the way sprockets are attached to cranks. We did not patent the design. (oops!) Although now many companies made good copies of our design I don't believe any are as good as ours.
The teeth have been modeled after the tooth shape used for industrial machinery. In industrial situations this engineered tooth shape keeps machinery running quietly and smoothly at very high RPM's. For BMX it makes it the smoothest running sprocket. Also the teeth are made tall to prevent the chain from derailing.